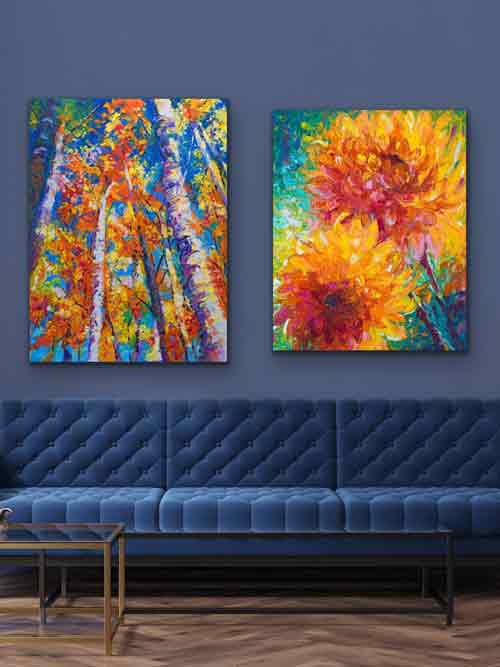 Modern Impressionist
Portraits, Landscape Oil Paintings, and Flower Canvas Wall Art by Talya Johnson
"Through the lens of beauty, contemporary art has the power to ground us in reality, validating our many difficult experiences all while uplifting us to a higher, more hopeful state of humanity." ~Tali
Portraits and Figure Paintings
Portrait oil painter Talya Johnson has always loved gazing at people. With a deep passion for capturing the human form, much of Talya's artistic journey stems from her desire to understand human connections. Inspired by the painted portraits she observed in her own childhood, Talya strives to evoke a sense of being known and present through her art.  In her curiosity, she developed a fascination with closely examining the landscape and nuanced expressions of individual faces. Through the processes of focused observation, she develops a love for her subjects that is difficult to ignore. Discover the power and emotion this painter instills in her beautiful portraits through this gallery portrait prints and originals.
Available for sale
Original Oil Painting Landscape Art
The beautiful Pacific Northwest is the perfect natural inspiration for Tali's creative process. Her fine art painting features diverse landscape views and scenic panoramas of mountain ranges, peaceful hillsides, fertile river valleys, rugged coastal vistas, and picturesque country farms. In this landscape painting  art gallery you will find both abstract landscape paintings painted with thick palette knife strokes, and colorful impressionist oil paintings-artwork for sale that usually began as Plein air work studies. Most of this collection was created on location in Alaska, Washington and Oregon. Wall art of seascapes and treescapes by Tali are a particular favorite of art lovers who enjoy how color and texture add further meaning to conceptual painterly motifs.
Pacific Northwest
Searching for Light
Talya's artistic journey began in the mesmerizing landscapes of Alaska. Surrounded by the monochrome winters and the fleeting bursts of color in the short summer months, Tali's search for beauty became a lifetime artistic pursuit. Inspired by the diverse and breathtaking scenery of the Pacific Northwest Talya's passion for painting is deeply rooted in the natural world. From Alaska's dramatic mountain ranges to Oregon's enchanting coastline, she immerses herself in her suroundings capturing their essence with each brushstroke. 
Modern Impressionist Paintings and Portrait Gallery: Original Oil Paintings for Sale
★★★★★

Working with Talya was wonderful. She walked us through the process and shared the experience of what it takes to paint a portrait. The painting is above and beyond anything I could've imagined and the number of compliments we've received on the piece of art is overwhelming. I look forward to working with Talya again.

CG

Portland, OR
★★★★★

Talya was great to work with. We live out of state, and found out about her from a friend. She was professional, kind, and very attentive to my needs. She is detailed in her work, and gave our painting her full attention and love. We kept in contact during the process and she allowed me to see the piece as it developed and asked for any input I had. I never had any lol, because she's so amazing, and the piece was beautiful! I couldn't be more pleased with our painting. Talya brought it to life! If you want a hand painted piece, Talya will not disappoint. You are in good hands with her. She will give you her all!

CL

Seattle, WA
★★★★★

Talya is a great landscape and portrait artist. I love her evocative landscapes -- she uses bold colors and noticeable brushwork, but it all blends into a cohesive whole. She's inspired by the Impressionists and it shows. Her paintings are filled with life! I highly recommend her for commissions or just for the perfect accent piece for your home!

KC

Portland, OR
★★★★★

Talya is a gifted fine artist and I feel so lucky to have her work hanging in my home. If you are looking to add to your collection, be it portraits or landscapes, please check out Talya's work. It's magical!

LH

Portland, OR
★★★★★

Talya is one of the most talented artists I have seen in a long time. She can paint any subject, and they are all so beautifully done. I would definitely recommend if anyone is thinking about investing in some art.

KT

Sacramento, CA
"The purpose of art is washing the dust of daily life off our souls." ~ Pablo Picasso